How to reach Bergamo Orio al Serio Airport?
The one of the first in Italy international airport of Bergamo-Orio al Serio, in terms of number of passengers, is located in the town of Orio al Serio, in the province of Bergamo, 5 km from the provincial capital and 45 km from Milan. The large attendance of passengers who gravitate Milanese metropolitan area, is the growth of Low Cost some companies, such as Ryanair which has eect as one of the local airports nationwide, made him the third airport in Milan.

The airport services by March 2007 have seen SACBO acquisisre monopoly and have the first private competitor. After a period with "ASA Handling" that from March to June 2007 took charge of the 'support aircraft and passengers TUI Fly, from September 07 "AGS" provides all the handling services to a number of cargo carriers and passengers in addition to the services provided by SACBO.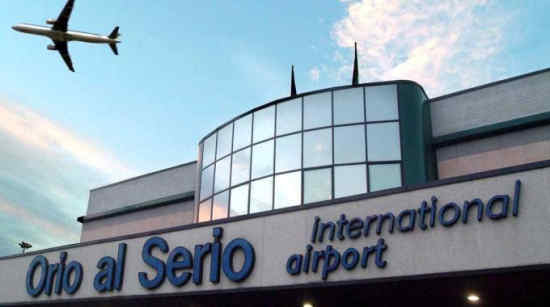 Getting to and from Bergamo Orio al Serio Airport by train
Although the trains do not go directly to the airport, you can take the train to and from the train station in Bergamo. There is a bus service between the train station and the airport. The distance between the railway station and the airport is 10 minutes.



Getting to and from Bergamo Orio al Serio Airport by bus
• Bus: One of the most popular options and probably one of the cheapest is the bus service which is operated by Terravision. This service runs on a regular basis throughout the day coincides with all the times of arrival and departure time and allows you to get to Milan and Bergamo

• Private Transfers: Private transfers are available from the airport, however, are a bit 'more expensive than most other options. This option obviously depends on your budget, but the convenience is really unmatched.

• Public transport: It 'can get from Bergamo to Milan simply by using public transport. One of the cheapest methods, the most popular and the easiest is to use the service Bergamo bus and then take the train. First you need to take the bus to Bergamo station and then take the train from Bergamo Station. The bus stops in front of the train station, which makes this really easy.



Getting to and from Bergamo Orio al Serio Airport by car
The Orio al Serio airport is easily reached from all over Lombardy, it is located about 5 km from the center of Bergamo and about 55 km from Milan.

The airport of Milan Orio al Serio is located on the A4 Milan-Venice, one of the main highways of Italy. To arrive at the airport take the exit Seriate.
Potrebbe interessarti anche: