How to reach Catania Fontanarossa Airport?
The airport of Catania Fontanarossa the most important airport in Sicily and one of the main ones among Italians. The traffic is constantly increasing, with many scheduled and charter flights who choose the airport of Catania thanks to its favorable geographical location, climate conditions and from maritime and road links.

The airport supports a very high domestic traffic but also a number of long-range connections with all major European cities and, lately, even outside Europe, such as Cape Verde, Dubai and Tel Aviv. The airport is also the logistics base of the airline Wind Jet.

View of the small size of the previous facility, which dates back to the '70s to accommodate a traffic of about a million passengers a year, in recent years was built a new and bigger terminal close to the previous year.

It was with the work expanded the parking area for aircraft and built a new taxiway that connects the square to accommodate aircraft with the runway 08.

The Catania airport operator, intends to follow the development of the airport and developing gradually enlarging further drive all the structures of the Sicilian airport.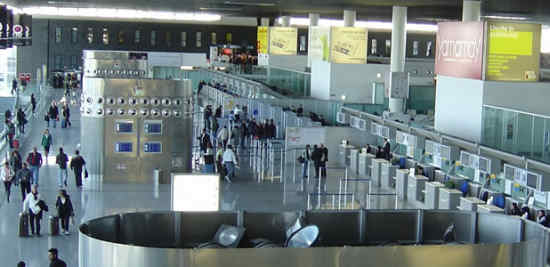 Getting to and from Catania Fontanarossa airport by bus
AMT Alibus (tel: +39800018696; www.amt.ct.it) runs services every 20 minutes from 05:00 until midnight, between the city center and Catania Fontanarossa airport (via Catania Train Station Central). The travel time is about 20 minutes, and the single ticket costs € 1. Tickets can be purchased at the ticket office at the airport.



Getting to and from Catania Fontanarossa airport by train
Trenitalia trains arrive at Catania central railway station, about 4 km from the airport, from all the major cities of Sicily and Italy's mainland. Regular buses connect the Catania Fontanarossa airport to Catania Central Station.



Getting to and from Catania Fontanarossa airport by car
The airport is close to the A19, which links Catania with Palermo and central Sicily, while the E45 European route leading to Siracusa in the south. Passengers can also take a taxi from the terminal to the city or to go even further in the other famous locations including the nearby Siracusa, Taormina, and the resorts of the west of Palermo and Marsala.



Getting to and from Catania Fontanarossa airport by taxi
Taxis Radiotaxi (tel: +39095330966) are readily available outside the arrivals terminal. The journey time to the center of Catania is 10-15 minutes, and the fare is about 25 €.


Potrebbe interessarti anche: