Ho to reach Bologna?
Cities in Emilia-Romagna, the provincial capital and region, with 483,946 inhabitants, situated 55 meters high between the Savena and the Rhine river in a very fertile plain, close to a group of hills, last layers of Emilian Apennines. In the plan of the city the three phases of the next enlargement of the town are easily identifiable: the Roman center, which occupies the heart of the city, rectangular insulae; medieval buildings, which are developed with roads radiating around the oldest part; modern homes, some of which stretch in both directions of the Via Emilia and partially recline on the gentle slopes of the hills. The walls that enclosed the oldest nucleus was between 1327 and 1390 replaced by another broader, largely demolished at the beginning of this century; its ancient route corresponds today to ring roads. The modern city has roads that are cut at right angles, except in the highest quarters.

Highly developed industries, including prevail food (pasta factories, sugar mills, canneries, distilleries, etc.), Followed by chemical, mechanical, textile, tanning, color, etc.

The geographical position has helped hungry ganglion most important roads and railways in Italy: it in fact radiate roads to Florence, Rome, Turin, Milan, Verona, Venice, Bari, etc. In Borgo Panigale there is also a well-equipped airport.

In the municipal area, large 141 sq km and 444,872 inhabitants (490,528 in 1991), have developed considerably agriculture (cereals, hemp, grapes, sugar beet, etc.), And the breeding of livestock.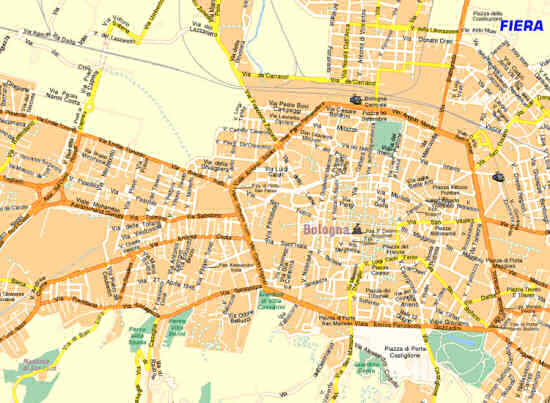 How to get in Bologna by train
Known as one of the major Italian railway junctions the Bologna train station connects Northern Italy with the Centre and the South. For schedules and more info see: www.trenitalia.it




How to get in Bologna by plane
The airport of Bologna, Guglielmo Marconi, is about 6 km from the city and is served by international airlines that low cost European flights as Easyjet. The connecting service to / from Bologna airport is provided by the Aerobus which connects the airport to Bologna train station with departures every 15 minutes from 5.30 am until 23.00 at night.
 
The second area of the airport is in Forlì about 70 km from Bologna. Both airports are well served by taxis and shuttle bus service.



How to get in Bologna by car
Bologna is well connected to all major Italian cities. With Milan, Florence and Rome, the city is connected by highway A1.

A13 motorway linking the city with Ferrara, Padua and Venice, while the A14 connects the city to Rimini and Ravenna. The S64 links Bologna directly with Ferrara.

The city is also crossed by the Via Emilia (S9) linking Milan with the Adriatic coast. For some of the car rental service: Europcar: +39 051 24 71 01 and Hertz: +39 051 254830

Potrebbe interessarti anche: